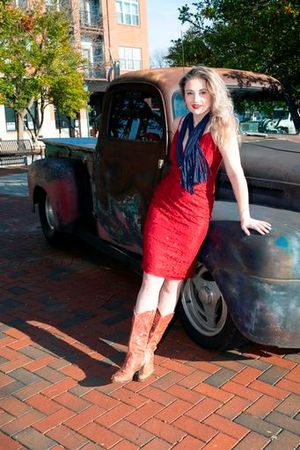 Bio
Sydney Lett
Singer, songwriter
Born: October 8, 1996
Hometown: Des Moines, Iowa
Residence: Rowan County, NC 
Sydney Lett started playing guitar and singing at the age of 10.
Her musical inspiration comes from listening to her grandfather's country music: Loretta Lynn, Johnny Cash and Dolly Parton.
Sydney's first self-promoted concert was in 2010, called Frets for Pets to benefit the local animal shelter in Newton, Iowa. She raised $5,000.
Sydney was introduced to NASCAR racing through singing the National Anthem for several NASCAR races at Iowa Speedway. She continues several friendships within the sport today.  In 2012, she wrote a song called 'Angels Still Cry' about the tradegy at Sandy Hook, the song was included on a compilation CD to raise money for the victims' families wll as the school's  music and arts program. Sydney has performed in Newtown, Conn for some of the victims' families and the community. 
2014 was a turning point with a move to Nashville, TN, signing with a Nashville manager and released 'Crazy Good Wonderful Life' to radio. 
The 25-year old has several tour dates already under her glittery western belt, playing at the Mississippi Songwriter Festival, Pensacola Songwriter's Festival, the Florabama and several Monster Jam arena in Iowa, Kentucky, Oklahoma, and Ohio. In November 2017,  she performed at the UTA Convention at Paris (Las Vegas) as the headliner.  Sydney frequently performs at the Texas Troubadour Theater in Nashville for WSM Cowboy Church and Midnight Jamboree with Joanne Cash and the Cash Family. 
Sydney has performed with several notable country music entertainers including  Blake Shelton, Diamond Rio, Terri Clark, Jerrod Niemann, Rodney Atkins, Gretchen Wilson, Jon Pardi, Joe Nichols, Lonestar, Sammy Kershaw, Ricochet, Leann Rimes and more. 
Sydney's passions are reflected in her songwriting: her '66 Ford Mustang Audrey, horses and navigating life in her twenties. The young entrepreneur has recently opened a horse (rescue) farm in Rowan County, N.C. named Songbird Stables.
Sydney released 'Chasin' Trains' to radio in 2020 and is currently working on an album with Nashville writer/producer Danny Rader. Rader is the 2016 ACM 'Specialty Musician of the Year' award winner; a six-time CMA 'Specialty Instrument' Award winner and three-time Guitar Award winner.
Look for Sydney's newest song release - this week!!!! "I'm Over It".